As pediatricians, we spend a significant amount of time counseling patients and parents on how to live healthier lives. We encounter a variety of difficult issues with children and their families, and our program is committed to our residents' personal and professional wellness during your development as pediatricians.
Resources include immediate access to mental health and medical appointments, an on-site gym, protected daytime off during call months, and program-sponsored retreats, conferences, and reflection sessions with your colleagues. Explore some of the initiatives and events which we currently offer within our program:
Free Time for Wellness (FTW)
On select call months, residents have one protected afternoon for wellness. The FTW afternoon is protected time for people to recover, decompress, and get well. This may include running errands, going to an appointment, taking a nap, making a meal, seeing the sun (or snow), or anything else the resident might need.
Bring Yourself to Work (BY2W)
Founded at UCM in 2018, our former Pediatric Chief Resident, Dr. Reem Itani, wanted to inspire and encourage residents to continue to pursuits beyond medicine and feel supported to share them with their colleagues. This morning lecture series highlights interests, hobbies, and passions of our residents, fellows, attendings, nurses, and other Comer staff. This series has been met with rave reviews and has allowed everyone to get to know one another on a deeper, more personal level. Examples of previous sessions include:
Gary Fernando: Disney and Childhood Apraxia
Karen Goldstein (APD): Bringing Art to Work
Melissa Baltuano (Child Neuro Fellow): Cupcake Decorations
Misun Jung, Leslie Mataya, Robert Sanchez (Residents) & Jonathan Tutko (Music Therapist): Bringing Music to Work
Second Saturdays
Started in 2017 by former resident Meagan Appleman, this program is now organized by the social/community service chairs of each residency class to foster camaraderie amongst all classes. Hosted on the second Saturday of each month, this event is always a hit! Previous gatherings include:
Scavenger Hunt in Downtown Chicago
Karaoke in Chinatown
Community Service events including with "Volunteering Untapped" in Hyde Park
Beach days in the summertime
Bowling, AceBounce Ping Pong, Whirleyball
Intern Retreat and Move-Up Days
During the winter of PGY1 year, all clinical responsibilities for intern residents are covered for 2 days while they travel off-site to a program-sponsored retreat along with program leadership. Residents have the opportunity to participate in activities that enhance communication and teamwork, while also recharging and reconnecting with their classmates.
Prior to the beginning of each academic year, the PGY1 and PGY2 classes participate in Move-Up Days to learn tips and tricks on how to be a senior resident, how to survive calls, and how to prepare for the board exam as well as fellowship applications or job searches.
Holiday Party
Every holiday season, all residents are given one night off of clinical responsibilities to celebrate with each other at a program-sponsored event. This night out in the Windy City features lots food and dancing, and is always a big hit!
Social Support
Our residents often describe the feeling they have for each other as "family."  Our residents are particularly close, and being such, coordinate social activities across classes.  Each month, residents plan and attend a "Second Saturday" which is an outing at different locations in the great city of Chicago–past activities have included Whirlyball, curling, and dart-throwing.  Our residents also coordinate various community service events outside of their duties in the hospital.  The program sponsors a yearly Holiday Party for all residents–faculty and fellows stay behind to cover the patients!  Each of our residents also has 5 days off during either Christmas or New Years as part of our Holiday Schedule in which residents cover for each other in order to enjoy a bit of the winter weather.
Got Ideas?
Our program is very open and receptive to resident ideas on improving lifestyle. Our Resident Education Committee and Housestaff meetings focus on improving resident wellness, so we welcome your ideas!
Comer 5K Most Spirited Team
Halloween 2017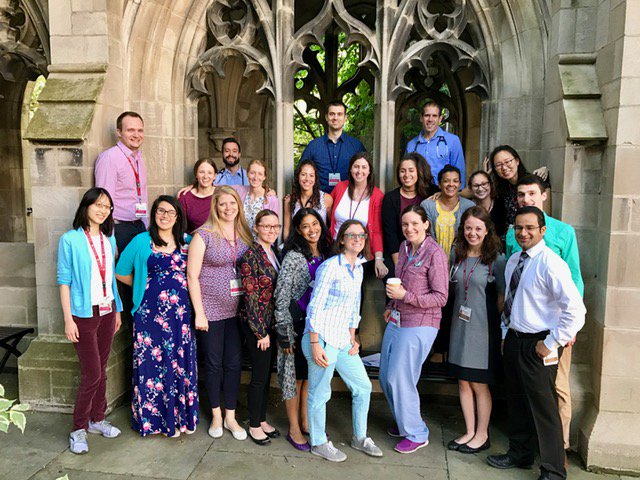 Wellness Walks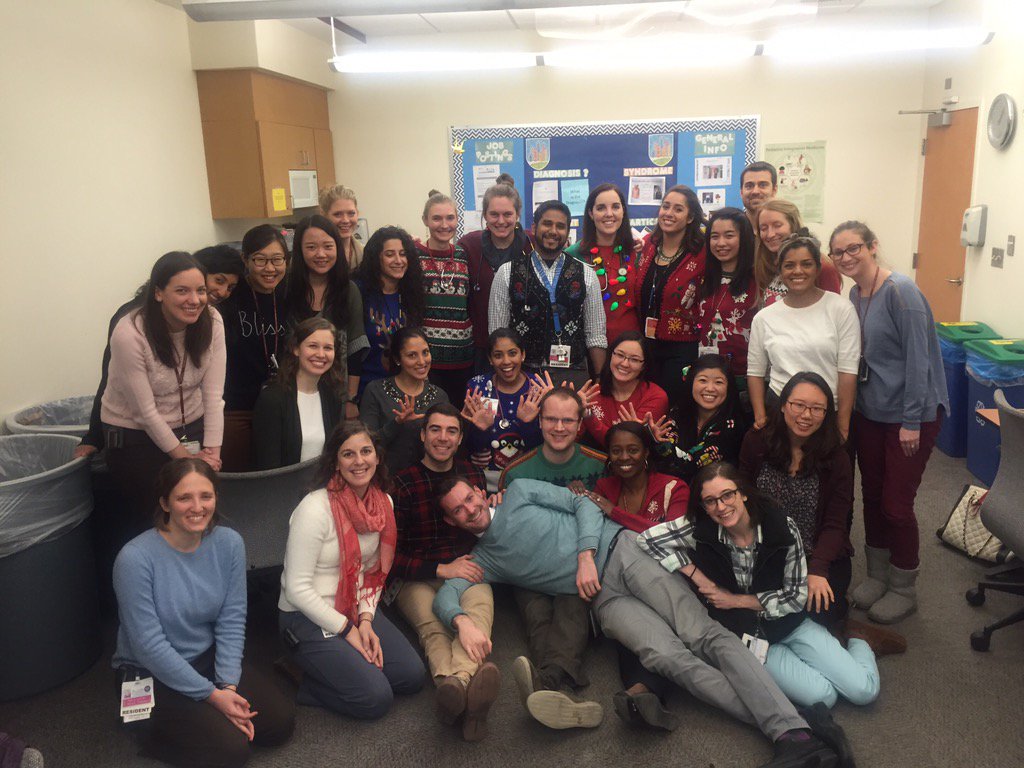 Holiday Sweaters 2017